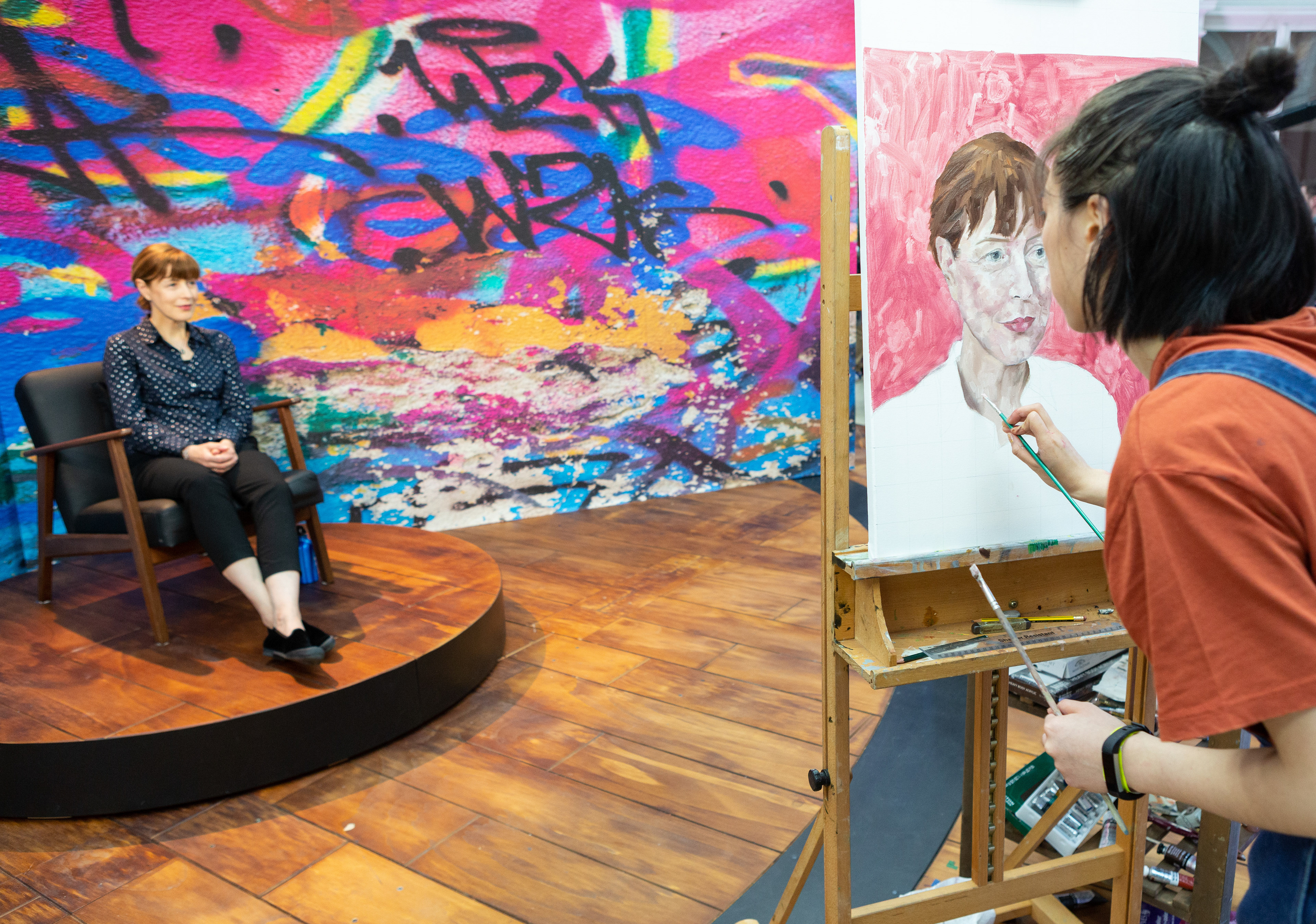 The day of the heat was such a surreal experience. It was an early start and a late finish, filled with interviews which made me question every single thing I was doing and thinking – quite challenging, but speaking with the judges was very beneficial and enjoyable; they are genuinely interested in your process. What made the whole thing less stressful was the production team who are genuinely lovely people wanting to help the artists do the best they can. I only have positive things to say about the programme and I would really recommend just giving it a go: I have learnt so much from the experience and developed as an artist as a result of it. 
And then of course, it was amazingly absurd that Gina McKee selected my portrait to take home (shocked face), and then I got shortlisted as one of the three artists (very shocked face), and then Stephen Mangan called out my name as the heat winner (absolutely flabbergasted face)! To be honest, I hadn't even imagined that I would even hear back at all after I had entered the competition on a whim. It was definitely one of the best days of my life so far.
You can read in more detail about my actual painting process on the Cass Art blogpost, linked
here
.
There's also a really lovely review of my episode on the Making a Mark blog, linked
here
.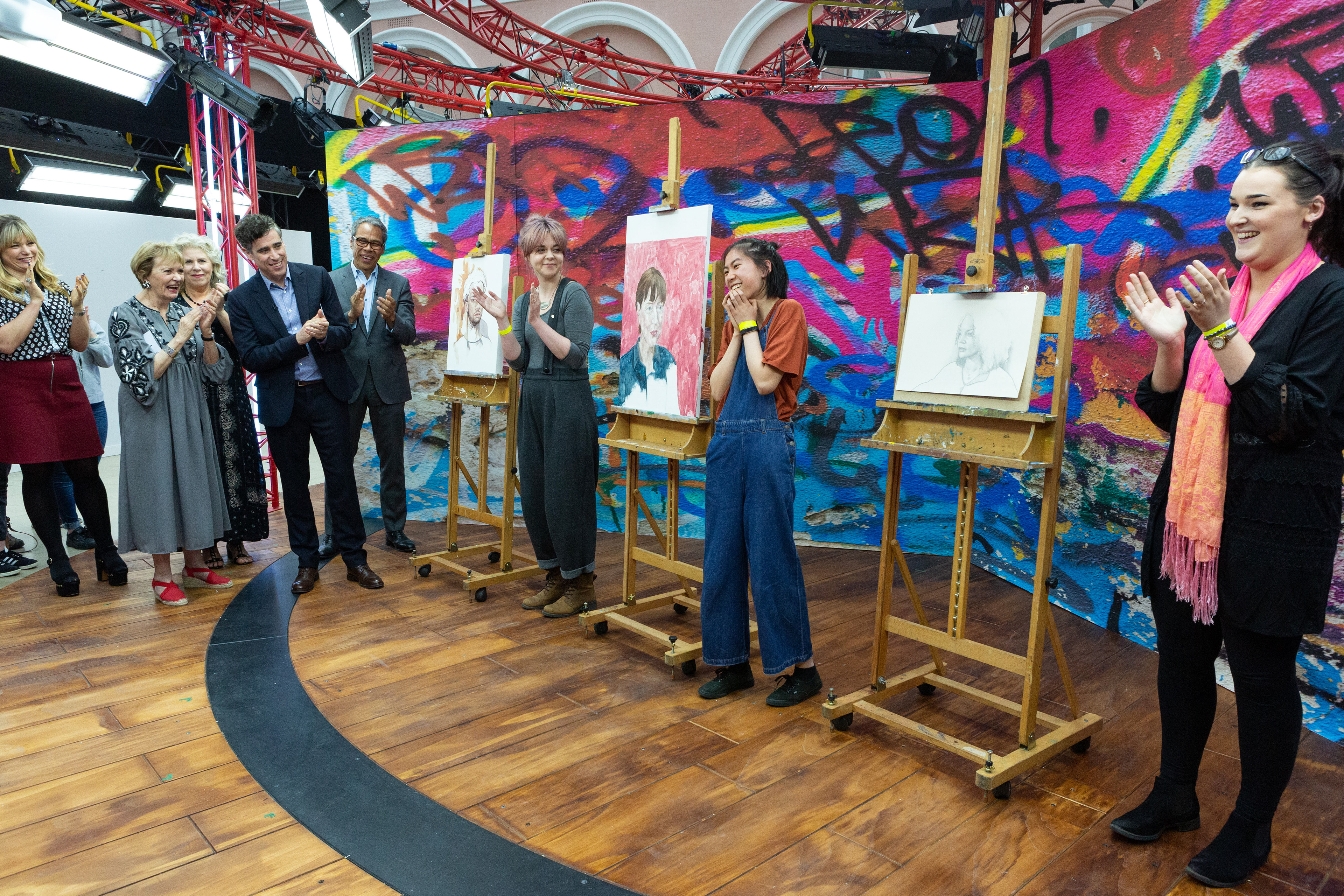 I found the experience of the semi-final much more challenging, and so want to write more about it, to help readers gain a better insight into what it's like to be a contestant on the show. 
For all those looking for tips, I would really recommend practicing as much as you can, perhaps keeping within a 3 hour time limit (it's much better to train yourself to be faster, and with all the interviews and cameras you only have around 3 hours anyway). Unfortunately, I was in the middle of my A level exams during filming and so I couldn't practice as much as I would have liked.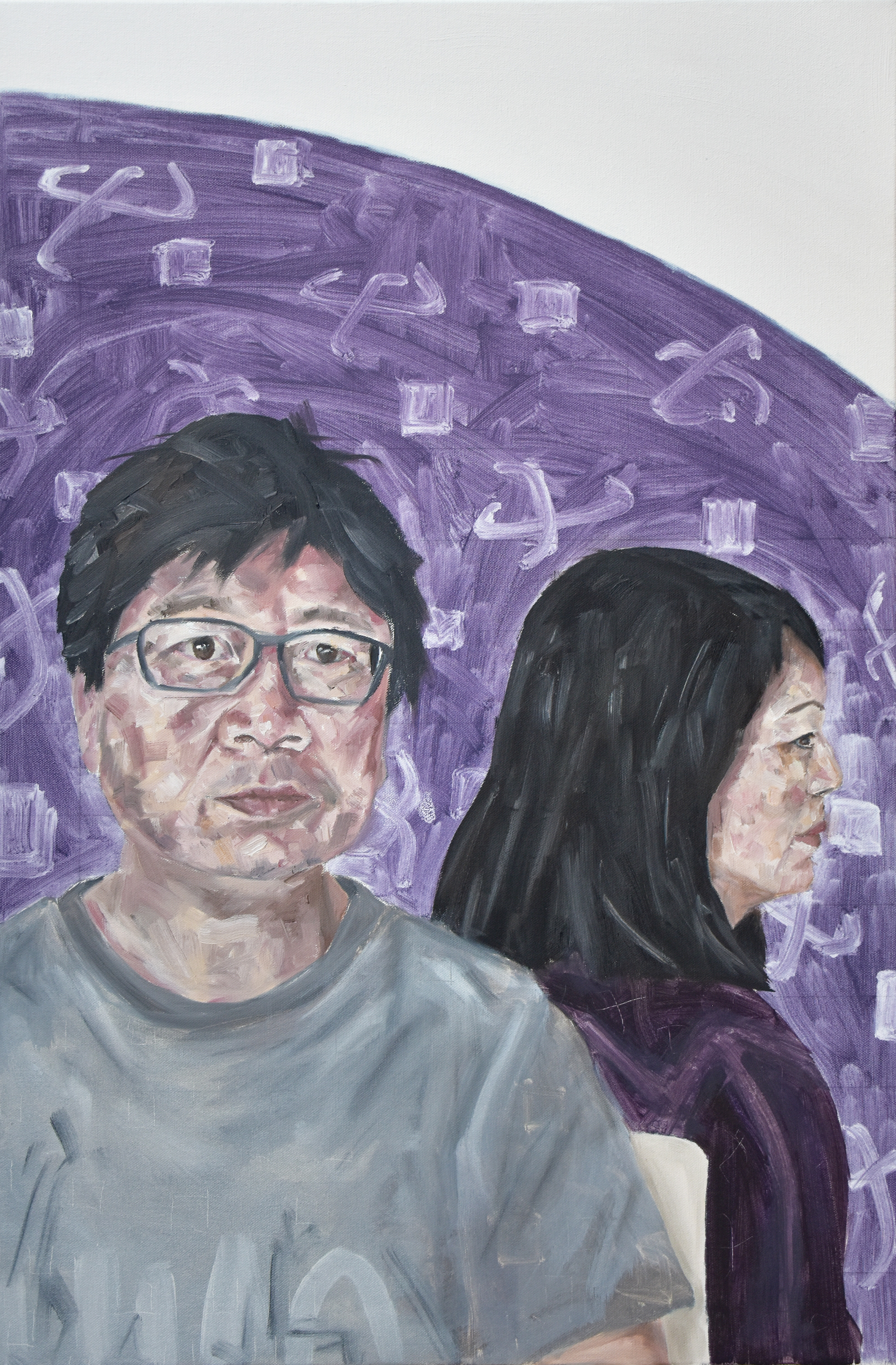 Double portrait completed as practice for the semi-final. (51 x 76 cm. Oil on canvas, 2018)
I went into the semi-final just wanting to not produce something embarrassingly bad. I felt incredibly inexperienced compared to everyone else; I started portraiture only very recently. I was painting very close to much more experienced artists, feeling out of my depth and comfort zone, both curious and terrified of what would be on their canvases. But all the artists are really lovely and talented people, and I learnt so much from them! They made the day much easier and enjoyable.
The atmosphere was much more quiet than in the heat, the absence of the public audience making it in my opinion tenser. This and the fact I knew it was a semi-final meant I definitely felt the pressure, even if I didn't show it. My process of painting differs somewhat – instead of underlayers and gradually building up detail, I usually start with detail from the eyes and work my way out, covering more canvas over time. This can seem as if I'm really slow (and perhaps I am…) but it's just the way I've always done it; and I didn't exactly have time just to experiment and play around with it all!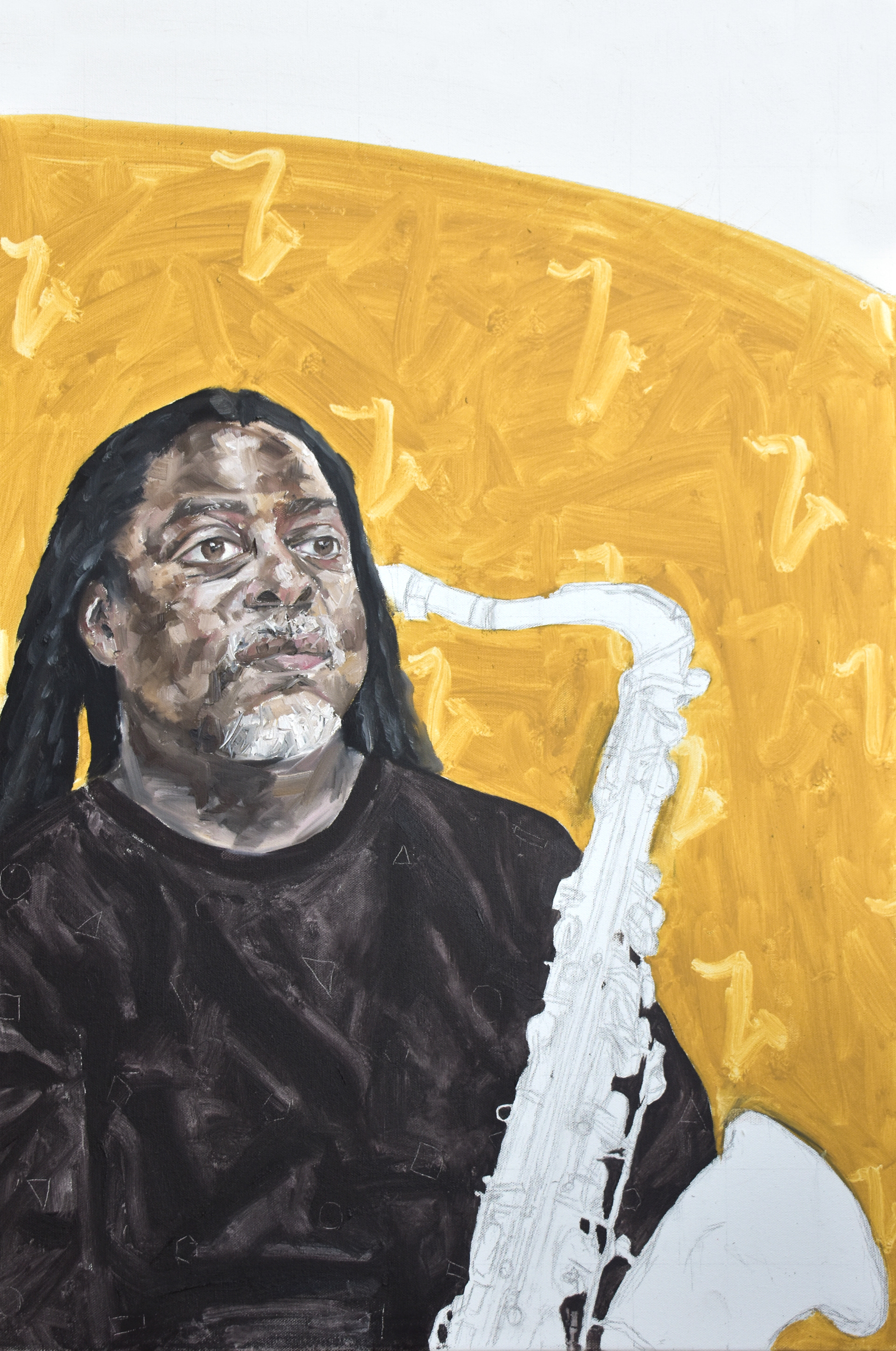 Regarding the finished painting – I certainly don't love it, but I don't hate it as much as I used to. I could tell you everything I don't like about it; I have berated myself multiple times for making the choices I did, but it doesn't change anything. If you're an artist reading this I'm sure you're all too familiar of the constant self-critique and doubt you go through during and after completion of an artwork. I could have done with another hour so I could take more time at the beginning to make less panicked decisions, and not feel the pressure to get somethingon the canvas. Don't underestimate the preciousness of those first few minutes – they really can affect how the whole portrait turns out.
I wasn't so much disappointed that I didn't progress to the next round, but more frustrated with myself that there was, upon reflection, so much I could have done to produce a better portrait. I'm not joking when I say I have spent a year picking apart everything I didn't like about it! However, it led to this second version of Courtney Pine. In this portrait, I of course had more than 4 hours – the brushmarks look less scrappy, I chose a more appropriate sized canvas, and I could focus more on the tones - technically the portrait is much improved. On the more conceptual side of things, in the previous portrait I liked the premise of the geometric shapes on his top as a reference to Courtney's synesthesia, so to further develop this I read interviews about him online and took parts of it, inscribing these on his top. I'd say I had less of a personal connection to him than other sitters I've painted - in hindsight I think having a conversation with him and picking out key phrases, and using these somehow in my portrait could have been effective. I also completely omitted the saxophone because I felt it wasn't necessary – to convey something, it doesn't have to be so literal (and to be honest that saxophone has haunted me a lot).
FINAL THOUGHTS / TIPS / ADVICE
I think it's really important to note that while the programme runs for 1 hour, filming takes around 12 hours. Therefore, what comes out is obviously a very simplified version of the events. For example, no one saw that I actually had to start again with the drawing because I had made the face the wrong size in relation to the canvas. In general, lots of people seem to forget, or don't realise, that the portrait made in this incredibly specific and unusual environment, and the tiny snapshot of how it's made, is not representative of the whole artist. I recommend checking out artists' websites and/or social media profiles because this is often a clearer representation of what they can produce.
My tips for entering the competition are to practise painting portraits in fewer than 4 hours and also at a further distance than expected (in the semi-final the sitter was much further away to allow room for all the artists) – you need to be adaptable to the TV conditions. If I were ever to go on it again, I'd tell myself to be braver and bolder. Most importantly, just go for it and enjoy yourself – it sounds like very basic advice but it's the best advice, if I do say so myself. 
I never imagined even getting to the heats: to have Gina McKee select my portrait, then be shortlisted, then reach the semi-final… I can't stress enough what an incredible experience it was - making me think, even just for a tiny moment, that maybe wanting to be an artist might not be such a bad choice after all.